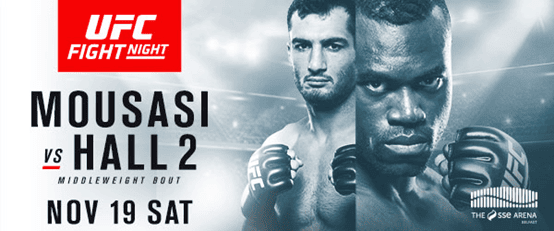 This Saturday, UFC® returns to Belfast as two of the middleweight division's most exciting prospects go head to head in a rematch of epic proportions. No.5 ranked Gegard Mousasi will seek to avenge the loss that halted his journey towards the title. His opponent, No. 10 ranked Uriah Hall, will be looking to prove that his win over Mousasi back in September 2015 was no fluke, and that he has the skills required to rise to the top of the 185lbs rankings.
Ahead of the event, which takes place inside the SSE Arena in Belfast, each of the athletes set to compete on the main card, as well as those going head to head in the Featured Prelim of the evening, shared their thoughts and predictions.
Gegard Mousasi – "I've trained for him before so this time I just made some little adjustments. I have a slightly different game plan and I'm ready to fight. This is nothing personal. He is a nice guy; I have nothing against him. I respect him for giving me the rematch. He won the first fight fair and square but now I can settle the score."
Uriah Hall – "There are two reasons why Gegard picked me; one, he think it's an easy fight, which he thought the first time, and two, he wants revenge. I'm a different breed. I'm dynamic, I'm patient and I'm articulate. I pick my shots. He's trying to come in here and prove a point, and I'm saying no, that kick was real."
Ross Pearson – "I like being active, I like competing. It's not the fighting that hurts so much; it's the training camps. Once I turned 30, I started to realize that I couldn't train like I was when I was 21 so my training camp has been a lot smarter, a lot more broken down; there's a lot less sparring. There's a lot more correct training and there is also a lot more thought behind the process of getting ready."
Stevie Ray – "Ross is someone I've said before that I'd like to fight. He's a big name so it's a chance for me to show that he's at the end of his career and that I'm just starting mine. Although this sport is about winning, it's also about entertainment. The fans are paying money to watch a fight, to be excited. They're going to be in for a treat on Saturdaynight."
Timothy Johnson – "He does have some dangers on the ground. He has a couple of really good submissions that I've got to watch out for. But I like to keep an open mind. Who knows what's going to happen? That's why I don't like to watch too much tape on the people I'm fighting. I like to try and dictate the pace of my fights. It's going to be an interesting fight in the clinch."
Alexander Volkov – "It's very cool to be on the main card. I'm just delighted to have been given the opportunity but I do feel a sense of responsibility to put on a good fight for the fans. I think he's a good fighter and he of course has experience in the UFC. For me, though, this is a good fight. I'm ready for it and I'm going to win. I've never fought in Ireland before but I have heard that the people here are big fight fans and that they love to see good performances so I will do my best to give them one."
Artem Lobov – "The preparation for this fight has been amazing. I did the camp with Conor McGregor. I was his sparring partner and he was mine. He is a two-weight world champion so that's as good a preparation as you can get. My opponent likes to exchange and brings a southpaw stance but other than that, I don't know much. He says he fancies the ladies but he should be more concerned with the Russian hammer who will be throwing some Celtic crosses."
Teruto Ishihara – "I'm happy to have been given this fight. This is a huge opportunity for me and I'm just excited to be here, to be on this card and fighting in Ireland. The atmosphere in Belfast is amazing. Artem has two big, powerful hands but I also bring power. Whatever happens, there will be a finish. This is going to be a really exciting fight."
Ian McCall – "I knew that he would show up, that he would come to fight and that he would bring it, and that's what I want. I never knew if I was ever going to do this again so I'm just excited to be here. The country is great. The people are awesome. It's definitely a good place to travel to."
Neil Seery – "I love Belfast. I've been to many, many shows up here throughout the years and the Belfast crowd is incredible so I'm really looking forward to Saturday night. What's kept me going? Heart and determination to prove people wrong, and I've done that throughout my career. When people said I'd never make it here, I made it. People said I wouldn't last here and I've lasted. Now, I'm going out on my own terms".
Tickets for UFC FIGHT NIGHT®: MOUSASI vs. HALL 2 are on sale now and available via the SSE Arena box office and Ticketmaster.
For more information or current fight news, visit www.ufc.com.  All bouts live and subject to change.