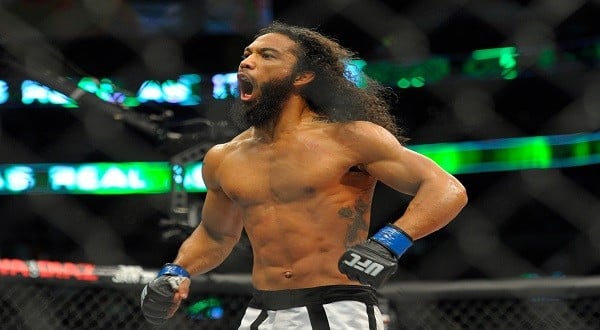 Image Credit: Bob DeChiara | USA TODAY Sports
UFC Fight Night 60 took place on Saturday, February 15th at the 1STBANK Center in Broomfield, Colorado. The event was headlined by former UFC lightweight Benson Henderson's welterweight debut against Brandon Thatch.
The fight was a back-and-forth battle, Thatch was able to find early success on the feet in the first two rounds, however, Henderson took over in rounds three and four, taking Thatch's back in both rounds and ending the fight via rear-naked choke.
Full UFC Fight Night 60 results below:
Main card:
Benson Henderson vs. Brandon Thatch
Max Holloway def. Cole Miller via unanimous decision (29-28, 29-28, 30-27)
Neil Magny def. Kiichi Kunimoto via submission (rear-naked choke) – Round 3, 1:22
Dan Kelly def. Patrick Walsh via unanimous decision (29-28, 29-28, 30-27)
Kevin Lee def. Michael Prazeres via unanimous decision (30-27, 29-28, 30-27)
Ray Borg def. Chris Kelades via submission (kimura) – Round 3, 2:56
Preliminary Card:
Efrain Escudero def. Rodrigo de Lima via unanimous decision (30-27, 30-27, 30-27)
Chas Skelly def. Jim Alers via TKO – Round 2, 4:59
Zach Makovsky def. Tim Elliott via unanimous decision (29-28, 29-28, 29-28)
James Moontasri def. Cody Pfister via submission (rear-naked choke) – Round 2, 1:49
Of The Night Awards:
Fight of the Night: Benson Henderson vs. Brandon Thatch
Performances of the Night: Neil Magny & Ray Borg