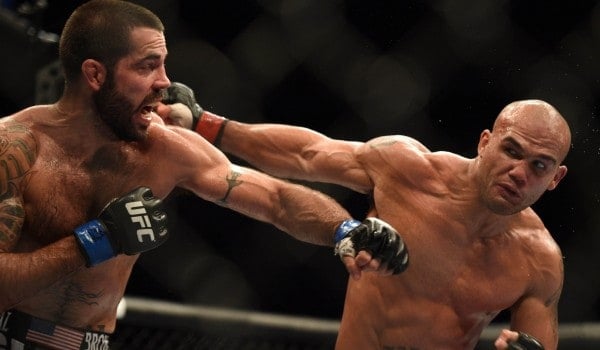 Image Credit: Kyle Terada-USA TODAY Sports
It's hard not to walk away from this past weekend's UFC event with a ton of respect for both Robbie Lawler and Matt Brown. Both guys laid it all on the line and the fight definitely delivered in spades. Robbie Lawler will now go on to challenge Johny Hendricks in what should be an incredible rematch, but it's hard not to respect Matt Brown's insane run that led him to Lawler.
Both men left it all in the ring on Saturday night and both men seem complimentary of the other one, especially on Twitter post-fight. It's nice to see this kind of stuff as opposed to the endless, often staged-looking smack talk between two guys. These guys fought, they left it all in the ring and they seem to really respect each other. This is why we love MMA, right here.
Congrats @IamTheImmortal on one heck of a fight.!! I have so much respect for you.

— robbie lawler (@Ruthless_RL) July 27, 2014
Congrats @Ruthless_RL… Fighters like us are an endangered species. Iron sharpens iron so both our blades will cut deeper from now on.

— Matt Brown (@IamTheImmortal) July 27, 2014