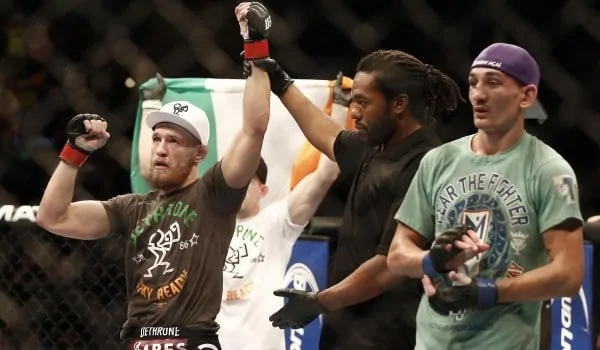 Image Credit: Winslow Townson | USA TODAY Sports
Well, that didn't take long, did it? It just shows the power of fighters speaking up for themselves and the fights that they want. If they catch on with fans then the UFC will feel the need to book it. UFC 178 takes place at the end of September, headlined by the big Jon Jones vs. Alexander Gustafsson rematch, now it'll feature Dustin Poirier vs. Conor McGregor. This was the fight that the UFC seemed to be pushing for, Dan Hardy discussing it immediately after Conor McGregor dispatched Diego Brandao on Saturday.
Dustin Poirier then was making the rounds yesterday talking about how he felt that Conor McGregor didn't deserve the hype that he has been getting and wished that he could derail it. Now it looks like he'll get his chance to derail the Conor McGregor train and silence him once and for all. This is a huge challenge for McGregor, some might even say too much, too soon. I guess we'll have to wait and see.