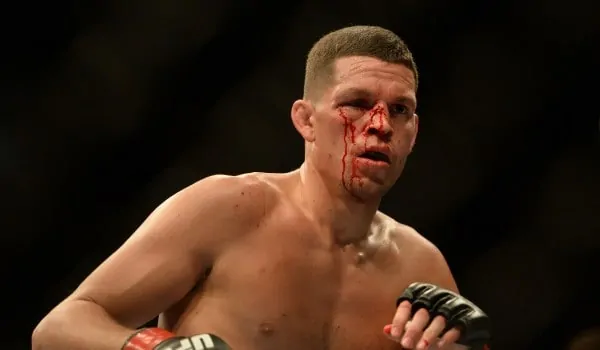 Image Credit: Kyle Terada-USA TODAY Sports
Nate Diaz hasn't fought in the UFC for a while now, the insanity being that Nick Diaz, who was "retired" has decided to come back and there's a good chance that Nick Diaz's fight in January might be the next time we see a Diaz in the UFC right. Nate Diaz has been holding out for more money, but it seems like the UFC doesn't want to budge at all. They haven't released Nate Diaz, which is interesting, but things have seemingly gotten very complicated.
Apparently, Mike Kogan has been trying to get Nate Diaz back into the picture, but it's ugly.
"I reached out to the UFC before the Donald Cerrone/(Jim) Miller fight even happened and said 'hey, how about we fight the winner? Nate beat both of them, they've both since fought 4 times and won, you know', and they said 'oh you know, let's see how the guys are after the fight, maybe they're banged up, maybe there not'. Next thing you know, they announce the fight with Khabib. Then Khabib blows his knee like 15 minutes later and now they're saying he's gonna be fighting Eddie Alvarez who's not even signed with the UFC yet. And we asked for that fight when Michael Johnson got injured. We hit up the UFC and said 'hey we'll fight Thompson'. That was like 10 day notice, you know. We said maybe ask them if they'll do like a little higher weight, like a catch-weight, you know like 160 or something, so it's short notice. And they said 'no, we have it figured out. Don't worry about it.'"
Then he responded to Dana's talk about Nate Diaz not "moving the needle." [source]
"Dana said Nate had the lowest rated fight in FOX history which is not true, that was Demetrious Johnson. Nate's fight against (Jim) Miller actually peaked at 3 million views on the same night that (Floyd) Mayweather was fighting and Sugar Shame Mosley was on the undercard, which you know, he's a name fighter, which means people are going to tune into that undercard fight and not just wait for (Floyd) Mayweather to hit. And on that night, on FOX he did 3 millions views with his fight, you know. He's not responsible for the rest of the card and the aspects that the show generates, but even the show did 2.4 million average which was higher than the Demetrious Johnson fight did."