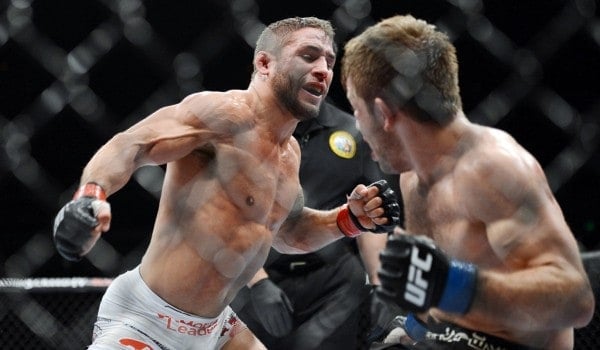 Image Credit: USA Today | Kyle Terada
Chad Mendes has definitely stepped up his game since he and Jose Aldo last met in the Octagon, but has he stepped up his game enough to back up his talk that has been constant ever since the rematch has been announced? That's the big question, and I'm simply not sure if he has.
Mendes hasn't faced the best competition, at least not Jose Aldo-level competition, so I'm interested in this fight coming up. There's no doubt Jose has a chip on his shoulder since Barao lost to Dillashaw.
"Honestly, watching his last fights, I couldn't see any sign of evolution. He basically bets on what he is good and he's doing always the same things. I think that this fight will be exciting to the fans because of that, since I have completely changed. I feel that my striking, my Jiu-Jitsu and my Wrestling are better now. I feel that I'm now a well rounded martial artist."
"TJ's win was big for our team. We've come too close of winning the title so many times and he pushed us for beyond that limit. That is what we needed. We couldn't decode the puzzle and TJ was the first able to do it. We can look what happened and do more. We can train in the way that he trained and implement what he did in our camps. I think that we found the recipe to beat them and I want to show this on August 2."